The Smoking Fetish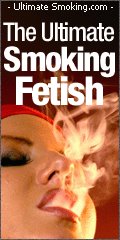 Smoking fetish sites are now, well, smoking hot.
Presumably, this is motivated by the further forbidden nature of smoking. Tobacco is public enemy #1, or is it #2, after porn? Oh well, I'll leave the math to other bloggers, and get on with my thoughts of smoking hot porn.
As a smoker, I admit, I like the idea of a guy or a gal (as I am an equal opportunity attention whore), finding watching me smoke a sexual turn on.
After all, I enjoy
the act of smoking
, it pleases me, so why not a lover?
And when I'm smoking, I often have visions of ordering some boy-toy about,
on a bad day, he's my human ashtray
. But usually I just order him to make me dinner -- and to get me another carton, but whatever... it's arousing to me.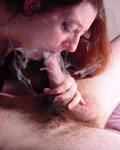 As long as I have been smoking, I've never blown smoke at my own tit. Nor at his
cock during a blow job
. I don't think he's let me near with a lit cig, but it's fantasy, so I'll play along.
Is it just me, or do brunettes seem to have the advantage here?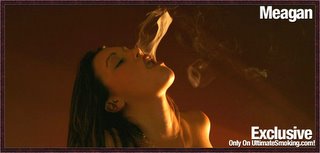 Dark hair seems to add to the allure for me. Very film noir. Very sophisticated. Smoking women can be seductive because their authoritative presence also communicates 'I am bored, so, you, boy toy, entertain me.' It's not quite domination, per se, but it's commanding.
Here's a blonde, who captures the sexy noir bit very well: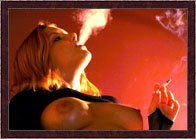 Now, all that said, I must say that once again:
Sad little webmasters have leftover pink HTML that they feel they must use, and so they have to make teen sites. ARG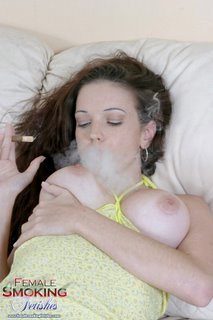 If smoking can be seen as a sophisticated turn-on, then all I can say is
little teens in rose-colored HTML rooms smoking
reeks of playing dress-up in mommie's things.
They don't look sophisticated, worldly or even experienced at holding a cig, let along touching themselves. I don't see the turn-on.
OK, that's not all I can say about teen smoking sites.
A) Your parents are going to kill you. Twice. Once for the porn, and again for smoking.
B) I hope these teens don't hurt themselves. Teens learning to smoke while nude... First a coughing fit, a dropped cigarette cherry, and that's going to leave a mark.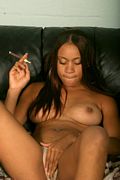 And one more thing --
this site boasts
"Diana Loves Cigars.. And She Loves Smoking Them While She Fingers Her Tight Black Teen Pussy!"
You call that a cigar?
*snort*