Trend: Women & Porn
Apparently, folks are interested in what women think of porn.
Sex-Kitten published an entire
issue on the subject
, academic Alyce Mahon's book
Eroticism And Art
, and there's even
Naked Ambition
is a new book on the subject of Women Pornographers and How They Are Changing the Sex Industry.
If you'd like to hop on the trend bandwagon, here's additional reading:
There's Annie Sprinkle's
"Post Porn Modernist Show"
.
In
femalefirst.co.uk
, there's this quote (and this is the bulk of the article):
"Erotica on the contrary re-defines flesh into a living breathing person exposes, not under the glare of a dissecting surgeons light, but more the soft glow of a candle and with it creating the desire to have sex for pleasure not merely to pro-create."
And a new blog, by a pal,
Wet Erotica
.
My Holiday Porno Picks
You've been waiting for it...
you know you have!
Porn-Opine now gives her top 3 picks for porn-flicks -- just in time for holiday giving!
Pick #3
Can't go wrong with a classic, so get
The Devil in Miss Jones
.
From the golden era of porno, back when all the adult films had both plots & hot sex, this film has everything - including a double penetration scene & sex with fruit.
One of the most watched adult films of all time, and sure to please your classic film buff.
Pick #2
For the girl or guy on your list who has a little difficulty keeping a straight face at the idea of porn,
work with it!
Wild & Wacky Adventures of Chloe
is the story of a comic-book-geek who dreams his comic-book-girl, Chloe, into his bed. And of course, reality & fantasy collide. But in a great way.
Picture this scene: The doorbell rings, and the naked chick opens the door -- to two Jehovaha's Witnesses! Naturally, the three of them have sex. But you don't have to picture it -- go
here
, and look for the pic you see to the left, click it & watch the scene!
Not only is this a fun porno to watch, but it's hot. Sexy folks, a plot line (
hell, a funny plot line that mocks porn as much as it celebrates sex
), and there's
no way
Chloe is faking these orgasms.
Pick #1
If you just want hot, hot sex, get
Urban Friction: A Modern Romance
.
Gracie at Sex-Kitten.net called it "ants-in-your-pants, can't-sit-still, must-finger-yourself heat!" in
her review
, and so I had to buy it. (
Use of this sort of descriptors was too compelling!
) And I'm damn glad I did.
Full of hot sex, the story line is about a young couple who push the boundaries of their relationship in the process of fulfilling their individual fantasies.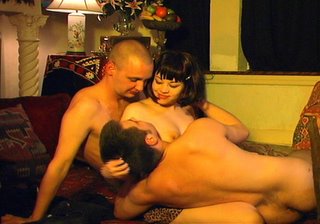 Of special interest is Mika's fantasy of sex with two men -- the tension while her boyfriend is forced to watch is acute. Once he gets to join it the action, it's even better.
Women will like the non-whimpering attitude of the women in the film, men will love the fact that this film isn't 'girly' by virtue of holding back the graphic sex --
all will love the fact that this movie creates heat & passion, not just sexual acts.
For photos & a clip, go
see Gracie's full review
.
Word Talk
Thick and plump and so inviting, her succulent breasts were what started me down this slippery slope, they were the true origins of my fantasy. Although, perhaps fantasy is not the right word, perhaps obsession might be more apt.
(From Maryland by Katy Terrega.)
As far as stories go, not bad. And I'm no man, so perhaps this is the very language with which one describes their love of breasts, more amply - err,
aptly
put, the love of large breasts. But as a woman with DD's, I dislike 'thick & plump' for my breasts - for any part of my body, really.
Succulent, sure. Voluptous, yes. But thick & plump sounds like a dinner chicken. Or some other meat.
But not cock.
Cock may be, God I hope it
will
be, thick; but plump? Too soft, too smushy. And while boobs can be, you might now be saying God-I-hope-they-will-be, smushy as opposed to hard rocks, it just isn't sexy to me.