Get On Your Knees, Bitch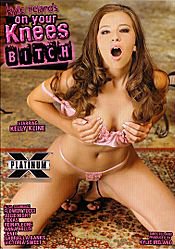 On Your Knees Bitch
, is not, as you might expect a sexist statement. Now,
women order other women
to do such things, for degradation is for everyone - as long as it is sexual, of course.
Back in the day, saying "On your knees, bitch" meant "Give me a blowjob, Hun" with lots of attitude, typically reserved for role play, and more oft than not, was a joke. And, as
William Dean writes
, "On your knees, bitch" is one of the many sex cliches, or as he puts it "Buzz Clips and Sexy Soundbites" which has lost its impact with repeated use.
Cliche or not, there now are many things to do on one's knees. In fact, now one can order oneself to their knees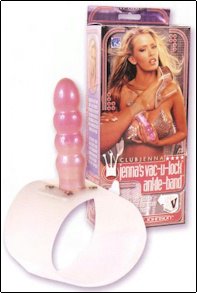 For example, with
Jenna Jameson's Ankle Band
, a 'hot new sex toy' by Doc Johnson. With claims of creation by the "goddess of Porn herself", this ankle band attaches a dildo the backside of your own ankle, so that you can penetrate yourself while on your knees. Apparently, the ridges allow for more pleasure when you thrust your ankle back and forth.
Sounds like an excellent example for how to
sprain your ankle
, for the
Karma Sutra
is not meant for one to practice alone.
At the very least, all this sex on your knees may provide insight into
knee pain risk factors
:
"For reasons that aren't entirely clear, your sex may increase your risk of some types of knee injuries. Women are more prone to ACL tears than men are, and teenage girls are more likely than boys to experience a dislocated kneecap. Boys, on the other hand, are at greater risk of Osgood-Schlatter disease and patellar tendinitis than girls are."
Perhaps gender & sex roles have something to do with this. Doggie style, anal sex and the old on your knees to provide oral services may be more of a woman thing, thus more wear & tear on the ol' ACL. (Hmm, maybe those housewives of yesteryear didn't have those rubber mats for washing the floor after all...)
If knees are at risk, are they valued past their ability to position for performance? In other words, are knees sexy? Christians are unsure if it's appropriate for a
Christian man to have his knees declared "Sex Symbols" for the world
. In this case, upon seeing the photos, I do not know if it's appropriate or Christ-like, but question the appropriateness of the title in any fashion. If knees can be sexy, these are not the knees.
I can only guess that the folks who have registered
SexyKnees.com
must think that knees are sexy. At least sexy enough to make some cash, and cash is sexy enough to be the bee's knees. But then again, the site sits with no content. Perhaps knees are sexy, but only in conjunction with calf & thigh - for your usual leg lovers. Or maybe, knees are merely hot for the positions they can create - and the phraseology which they enable.