Oooh, It's a Cat Fight!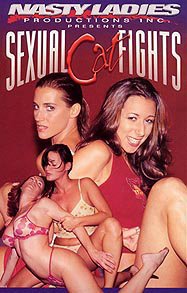 Another tired & true male fantasy: the cat fight.
No, that's not a typo, I mean it is a tired and true fantasy. So boringly predictable that I marvel at its ability to launch a cock into the upright position.
Ooooh, girls are touching each other!
However, worse than any girl-on-girl fantasy, the men who love a good catfight, are truly immature. For not only do they think that this is what real women do, but they believe that in the middle of such a fight that women will suddenly turn to kissing & fondling. It's like some sort of inadequate, awkward pre-teen male moves.
Advice from one 12 year old boy to another:
"Yeah, invite Suzie over & wrestle with her, yeah, then at least you'll be touching her... and then you know...:
*elbow elbow nudge nudge guffaw guffaw*
No, dear half-wit, Suzie will not take to wrestling with you, nor will this launch her into erotic delight. It has the same appeal of a boy who fondles her shoulder in the movie theater - for the length of the entire movie, thinking it's her boob (straight out of
The Summer of '42
, thank you!) But I digress. You didn't come here for the full spectrum of ignorant male sex moves, did you?
Ahh, but if you think catfights are hot, then that's exactly what you are after.
I shit you not.
Cat fights are not about anything other than infantile expectations, ignorant sexual affections, & immature erections.

Films and websites that offer
nude competitive wrestling
,
cat fights
, or some sort of
freak show where women wrestle & the winner decides how they will fuck
are just plain lame.
And if there's anything worse than real women fighting as an arousal mechanism, then it's horrible, tacky computer generated 'art' that depicts the same immaturity in it's theme as it does in its own creation. Ugh.